Homemade Walnut Milk
It is recommended to use non-dairy based milk as some studies have linked whey-protein-based dairy to skin conditions, including acne, thanks to its insulin-boosting abilities . Walnut milk for example, contains a healthy dose of magnesium, which is important for healthy blood flow in the skin.
Ingredients:
1 cup Walnuts (soaked in water for 8 hours or overnight inside the refrigerator)
4 cups Filtered Water
Milk Bag or Strainer
How to make:
Drain the soaked walnuts and rinse well.
Add the walnuts and filtered water into the blender. Blend on high for 1 to 2 minutes, or until walnuts are very finely ground.
Strain through the nut bag or strainer.
Walnut milk can be stored in the fridge for 3-4 days.
Anti-Inflammatory Spiced Blueberry Walnut Smoothie
The antioxidants and phytochemicals found in blueberries help to neutralize free radicals. Many of the vitamins in blueberries may neutralize or normalize oil levels in your skin, making it healthier and less likely to accumulate sebum.
Ingredients:
1 cup Homemade Walnut Milk
1 cup Blueberries (frozen)
1 tablespoon Freshly Ground Flax Seeds
1 tablespoon Molasses
1 teaspoon Ground Cinnamon
Handful of Ice Cubes (optional)
How to make:
Add all of the ingredients to a blender and blend until smooth.
Pour into your favourite glass and enjoy!
Kale Salad with Lemon Vinaigrette
Kale is high in antioxidants and vitamin K. The antioxidants that help the skin look young because they help slow down the process of aging, and vitamin K protects the skin's elasticity. Pomegranate seeds boast super high levels of polyphenols, which is an antioxidant also found in cranberries.
Ingredients:
4 cups chopped kale
1 avocado, diced
1/2 cup cooked quinoa
1/2 cup pomegranate arils
1/2 cup chopped pecans
1/4 cup crumbled goat cheese
Lemon vinaigrette Ingredients:
1/4 cup olive oil
1/4 cup apple cider vinegar
3 tablespoons freshly squeezed Meyer lemon juice
Zest of 1 Meyer lemon
1 tablespoon sugar
How to make:
To make the vinaigrette, whisk together olive oil, apple cider vinegar, lemon juice, lemon zest and sugar in a small bowl; set aside.
To assemble the salad, place kale in a large bowl; top with avocado, quinoa, pomegranate arils, pecans and goat cheese. Pour the dressing on top of the salad and gently toss to combine.
Serve immediately.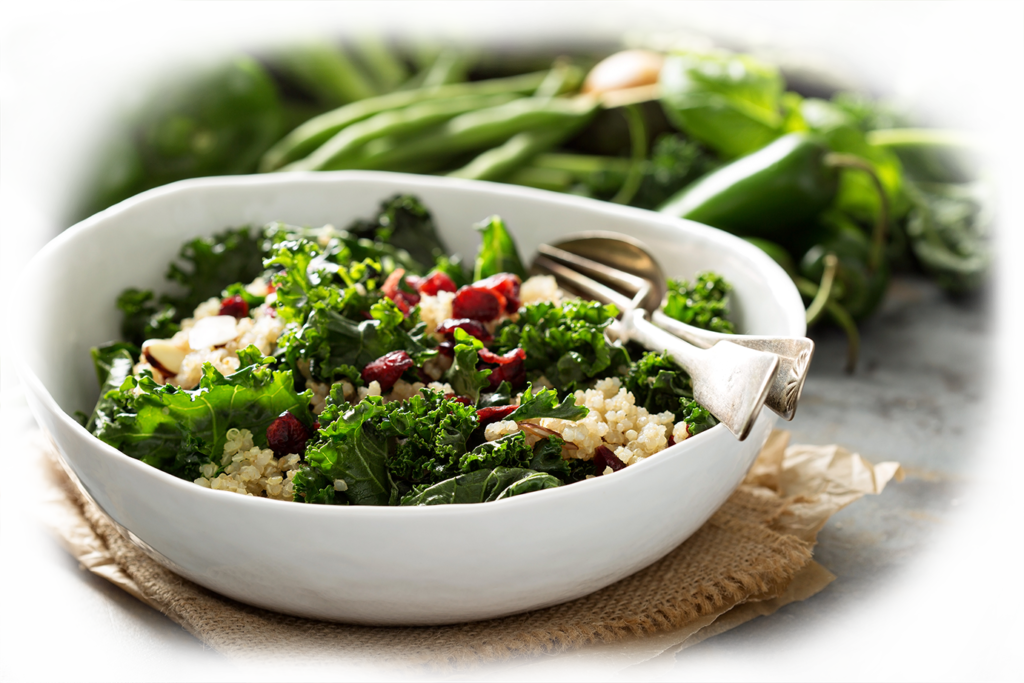 Lemon Herb Salmon
Salmon is omega-3-rich, a healthy skin superstar not just for its nutritional profile, but also for its low-grease preparation—baking instead of frying. Greasy food causes clogged pores and baking is a healthier option to prevent that. Lemon is a good source of vitamin C, calcium, magnesium and potassium. It also has antioxidant, antibacterial, antifungal, and astringent properties that help improve the appearance and condition of your skin.
Ingredients:
250 grams Salmon
1/2 cup Olive Oil
2 tbsp Fresh Basil (chopped)
2 tbsp Fresh Rosemary (chopped)
2 tbsp Fresh Parsley (chopped)
3 large Lemons
3 cloves Garlic (minced)
1 tsp Salt
1 tsp Pepper
How to make:
Add the olive oil to a small mixing bowl, then chop the fresh herbs. Add the herbs to the olive oil.
Zest two of the lemons into the olive oil herb mixture. Add the minced garlic and squeeze in the juice of the two lemons. Whisk well.
Place the salmon skin side down in a shallow baking dish and cover salmon with the lemon herb mixture.
Thinly slice the additional lemon and place on top of each piece of salmon.
Cover with foil and place in the refrigerator for an hour to marinate.
Remove from the refrigerator and cook at 96°C for 30 minutes. Serve.